One of the main perks of affiliate marketing is that technically anyone can try it. As influencers already have a fairly large online following, they can make great affiliate marketers. Though, for influencers to take advantage of their following, the products that they market should appeal to their target audience. Plus, by sticking to the products that they actually enjoy (and possibly even use themselves), they don't have to feel as if they're damaging their reputation.
In this article, we explore over 26 high-paying affiliate programs. The vast majority of them operate independently of an affiliate network. We've also tried to group them together more or less by industry. You'll notice that website builders, eCommerce platforms and web hosting services offer some of the best affiliate programs. As everyone nowadays basically needs a website (if not more than one), it can be a great place to start your search.
What's the Difference Between an Affiliate Network and an Affiliate Program?
An affiliate marketing network curates products from different brands and then works together with the affiliate marketers. In other words, it runs the affiliate marketing programs for many brands and acts like the middleman between the brand and the affiliate. Examples of well-known affiliate marketing networks are AWIN, CJ Affiliate, and ShareASale.
With an affiliate program, the brand oversees and runs the entire process. Instead, brands often use affiliate marketing software, like ReferralCandy or Refersion, to manage the program on their own. They can also appoint dedicated affiliate managers to liaise with the affiliates. One of the benefits of operating your affiliate program directly is that you don't have to pay any affiliate network fees.
---
Top Affiliate Marketing Programs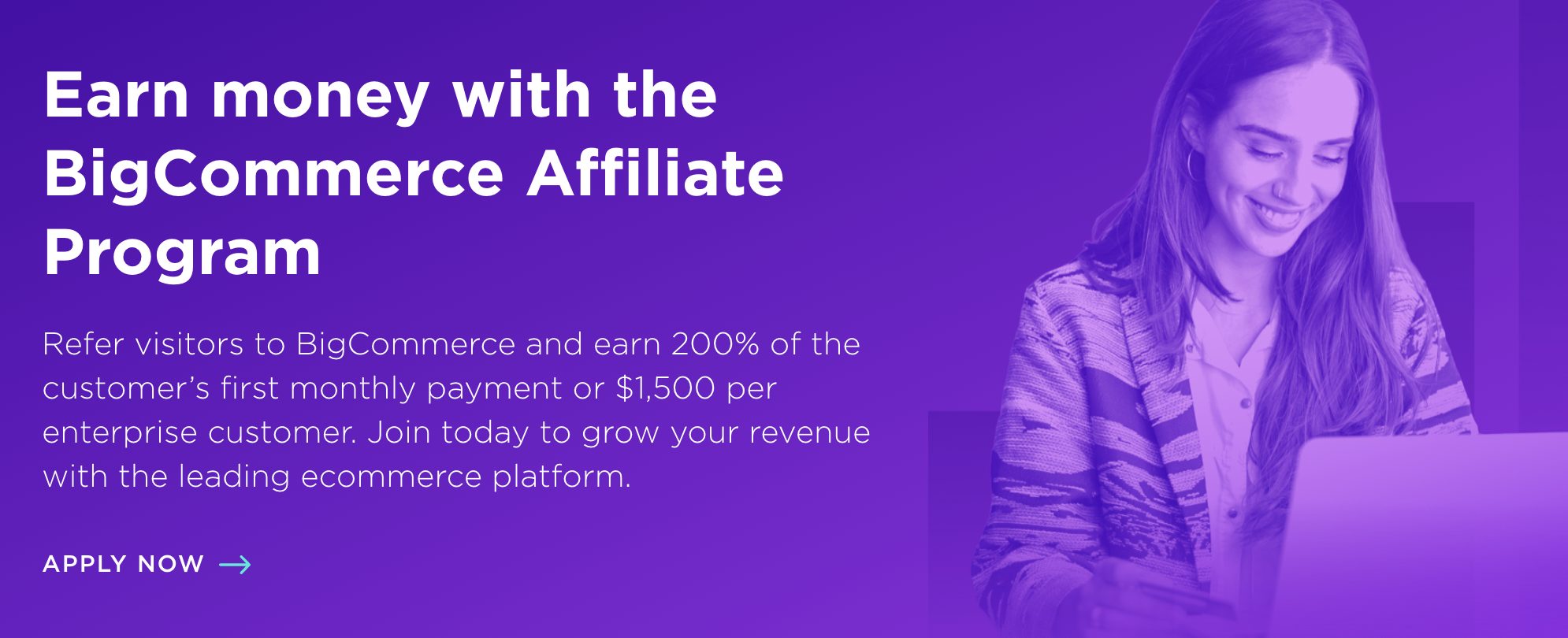 You can use BigCommerce to sell basically anything online. Plus, as there are many BigCommerce apps that can help you to boost your online earnings even further, it should be an easy sell.
Commission: Affiliates will earn 200% of the customer's first monthly payment. For an enterprise client, you can earn as much as $1,500.
Payments: No information is available on their page. So, it's best to contact them for more info about their payment schedule.
Resources and support: Affiliates receive pre-made banners and emails. To help them generate more sales, they also have direct access to a dedicated account manager who's an expert in affiliate marketing.
Cookies: 90-day duration
Ratings
Features
3.8
Ease of Use
4.2
Support
4.2
Overall Score
4.1
Features & Pricing
CRM
Email Marketing
Kitting
Multi-Channel Marketing
Promotions Management
Price starting at:$29
Pros and Cons
No limits on product variants
Easy to scale
No transaction fees
SEO features to help build your store
Annual sales threshold
Limited content editor
No multi-lingual store options
Best for: Online business

4.1 out of 5 stars
BigCommerce is a large-scale ecommerce platform that helps provide software services to retailers. BigCommerce will help build online stores, optimize your store for SEO, provide marketing services and more for small to enterprise sized businesses.
---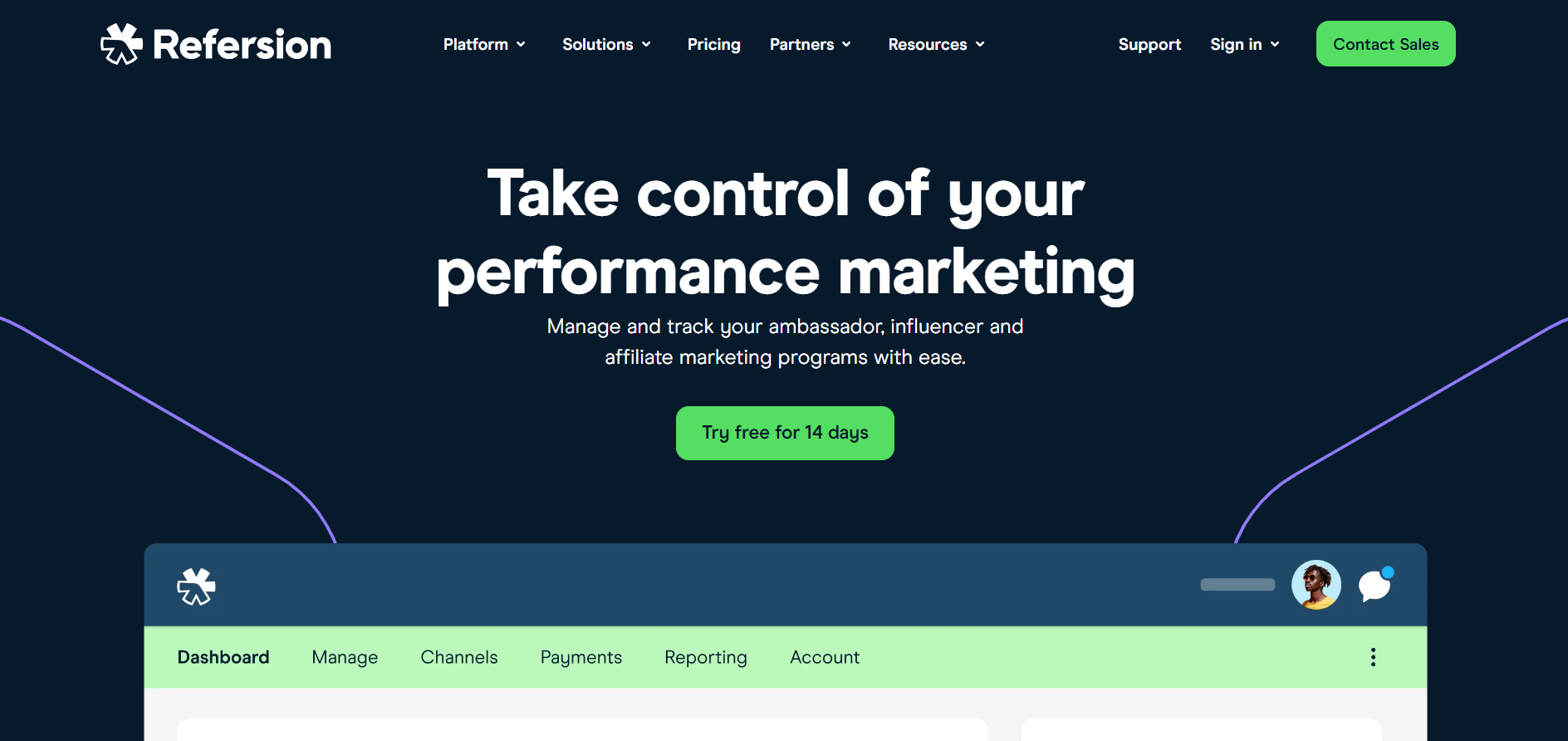 Refersion is a platform that e-commerce store owners can use to incentivize their customers for promoting their business. It allows merchants to design different types of offers, create links and coupon codes, customize commission structures, track sales, and integrate the software with their e-commerce solutions. Refersion integrates directly with major platforms such as Shopify, Magento, and WooCommerce. It also has API keys available for customized integration with other programs.
The software enables merchants to quickly view how every affiliate contributes to their ROI through three key performance indicators—effective earnings per click, average order value, and total revenue per affiliate.
Refersion values continued engagement with its affiliates. Its dashboard has a Message tab, where brands can directly exchange messages with their affiliates. Through integrations with Mailchimp and Klaviyo, online sellers can email newsletters to update partners about new products, fresh creatives, or images to help market their brand or any changes to commissions.
Commission: The platform offers affiliates 15% for all referrals who register with the platform using their link or by responding to an email for a direct-billed Refersion subscription.
Payments: Users have three options for paying affiliates: via the integrated PayPal feature, gift cards sent to affiliates via email, and by check or deposit.
Resources and support: Refersion's customer success and development team can help optimize their settings. To start, the Refersion Marketplace is a great place to find potential affiliates. Get discovered by over 8,000 affiliates when you place an offer here.
Cookies: The platform's cookie length is flexible—merchants can choose between two days to two years.
Ratings
Features
4.8
Ease of Use
4.5
Reporting
4.5
Overall Score
4.6
Features & Pricing
Automated Recruiting
Content Library
E-commerce Tools
Product/Gifting Tools
Forms and Compliance
Price starting at:$99
Pros and Cons
Really easy way to manage affiliates at scale
Multiple ways to structure commissions
Content library connects directly to affiliate websites (edit locally, advertise globally)
Limited types of on-demand reporting
Not easy to organise influencers/affiliates according to performance
No on-platform payment processing
Best for: Medium to Large Size E-commerce brands

4.6 out of 5 stars
Stepping into the influencer marketing landscape is a natural fit for this affiliate marketing app. Refersion helps brands build vast affiliate marketing networks, simplifying management, reporting, and training. Influencers as affiliate marketers is a logical progression.
---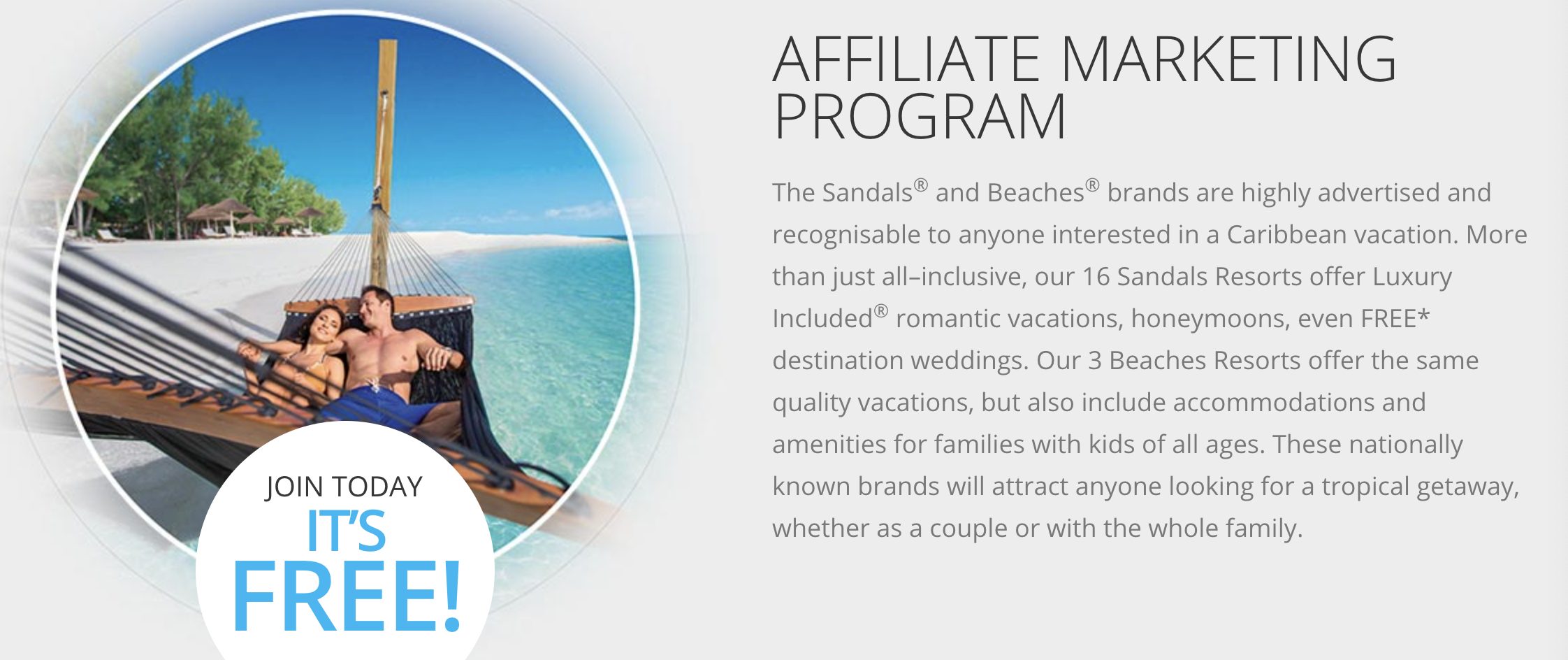 Another affiliate program that travel influencers and writers can check out is the program offered by the Sandals and Beaches brands. It's ideal if you know your target audience is craving a Caribbean vacation. As the getaways are suitable for both couples and families, you'll also be able to reach a bigger target audience.
Commission: Commissions start at 4% for all travel products. Affiliates can also win free trips and other performance bonuses.
Payments: The program is powered by the CJ Affiliate network. So, interested affiliates should reach out to them regarding their payout policies.
Resources and support: You'll receive a library of hundreds of colorful banners. Promotions and offers will also be communicated by means of a monthly newsletter. To help and support you further, you'll also be assigned a dedicated affiliate marketing manager.
Cookies: 60-day duration
---

Affiliate marketing can be a jungle out there. So, in some instances, it's best to turn to the ones that you (and everyone else) know the best, especially if you're a beginner. Amazon Associates is one of the biggest affiliate marketing programs in the world. It offers millions of products for affiliates to promote from baby products, clothing, kitchen, and outdoors to groceries, toys, supplements, technology, automotive and many others. It has helped bloggers and other types of content creators to monetize their traffic. Though, it shouldn't be confused with the Amazon Influencer Program. Influencers with a sizable social media following can refer to this program and earn commissions on qualifying purchases.
Commission: You can earn up to 10% in associate commissions from qualifying programs and purchases.
Payments: No information is provided.
Resources and support: Amazon offers high-converting promotional and announcement banners. There's a variety of standard banner sizes and shapes which means that you'll be able to pick one that fits in with your branding.
Cookies: No information is provided.
---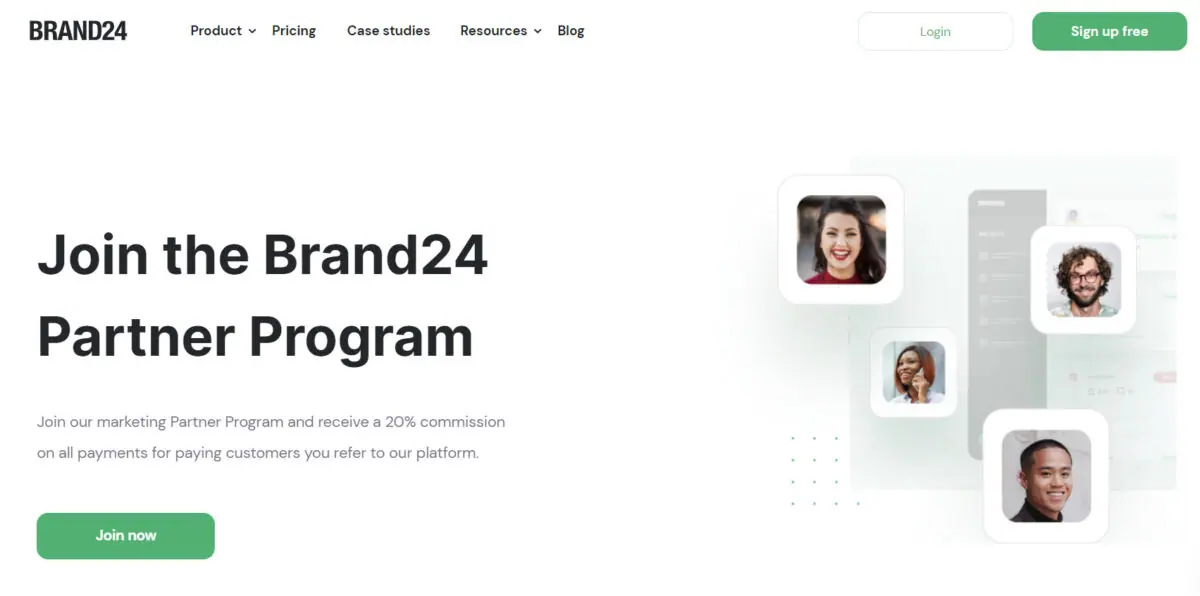 A highly profitable opportunity that digital marketers and entrepreneurs should certainly explore is the Partner Program presented by Brand24. It's an ideal choice for those with audiences interested in effective online marketing tools, offering potential customers high-quality solutions for online monitoring, social media management, and competitor analysis.
Commission: The program ensures substantial earnings with a recurring 20% commission on all payments from paying customers referred by you. What's even more appealing is that the commission continues to flow in every time the customer renews their subscription.
Payments: Payments are generally processed through PayPal and Stripe, with disbursements typically occurring on the 13th of each month.
Resources and Support: The Brand24 Partner Program provides support for its affiliates. This includes a range of ready-to-use marketing materials to aid promotion efforts. It also grants early access to high-quality materials and constant updates on product releases, ensuring that the affiliates are always one step ahead. Furthermore, professional support, helpful tutorials, webinars, and a personal manager are provided to assist affiliates in their journey.
Tracking: The program also features a powerful tracking system through a dedicated panel. It allows affiliates to effectively monitor their performance and keep a close eye on their referrals.
Cookies: Duration for 90 days.
---

For beauty influencers, there's the BH Cosmetics beauty affiliate program. Its products are cruelty-free and include countless vegan options so you won't exclude anyone in your audience. Plus, as sustainability and vegan-based products are some of the retail trends that will shape 2022, its products can be worthwhile to promote.
Commission: You'll earn 6% commission on all the sales generated via your site. The average order value is about $38.
Payments: No detailed information is provided.
Resources and support: You'll receive a monthly newsletter, coupons, banners, and other captivating creatives.
Cookies: 90-day duration
---

Travel influencers and travel writers can check out TripAdvisor's program. As there are no minimum traffic requirements, it's ideal for beginners.
It works a little bit differently than most of the other programs on our list as no "sale" is needed. Instead, you'll earn a commission when a user simply clicks out to one of its specific hotel booking partners. For example, an affiliate that sends 170 clicks to TripAdvisor can receive $60 per month.
One of the cons is that at the moment only hotels can earn commissions. With the boom in short-term rental properties, it would be nice to see affiliates getting rewarded for this type of accommodation too.
Commission: You can earn a minimum of 50% of the commissions that TripAdvisor receives from its hotel booking partners when a user visits TripAdvisor by means of your link and then clicks out to one of TripAdvisor's partners.
Payments: Commissions are paid by Commission Junction or AWIN. So, affiliates need to refer to the Ts and Cs of whichever of the two partners they've selected.
Resources and support: TripAdvisor will give affiliates a selection of logos, text links, banners, buttons, and badges.
Cookies: No information is provided.
---

If you prefer to earn a recurring commission, be sure to check out Teachable's program. According to its website, affiliates earn on average $450 per month, while many make more than $1,000 every month.
Commission: You can earn up to 50% commission. Recurring commission will always be 30%.
Payments: Approved transactions are paid 10 days after the end of the day they're invoiced.
Resources and support: Unlike most other programs, Teachable shares marketing language that managed to deliver results in the past with their affiliates. Affiliates will also receive monthly emails with platform updates.
Cookies: 90-day duration
Ratings
Features
4.0
Support
4.3
Value for Money
3.9
Overall Score
4.1
Features & Pricing
Custom/Mandatory User profile fields
Changing Course default settings
Scheduling LIVE events
Assign Courses to categories
Survey Engine
Price starting at:$29
Pros and Cons
Lots of great tools for building and promoting your new course
Various customization options
Great customer support
High price point
Minimal reporting and analytics
No native option for course completion certificates
No EU VAT support
Best for: Entrepreneurs, creators, and small business

4.1 out of 5 stars
Teachable is an all-in-one platform that helps users create and sell courses online. This platform manages it all for you, from web hosting to payment processing.
---

Kajabi is a popular platform that helps you to create online courses, landing pages, marketing campaigns, and even a website. One of the most attractive features of its affiliate program is that it offers a whopping nine partner tiers. We love the concept of gamification and believe that it can be that extra motivation you need to become the best affiliate marketer.
Commission: You'll receive 30% lifetime commission per new referral that remains active past the trial period.
Payments: Payouts are made on the 25th of each month, but there's a 60-day hold on payouts. Also, if your referral is on an annual plan, the payout will only be yearly. All payouts are made via PayPal.
Resources and support: You'll receive access to webinars and customizable email templates.
Cookies: No information is provided on its website.
Ratings
Features
4.0
Ease of Use
4.1
Support
4.0
Overall Score
4
Features & Pricing
Email feature
Video Hosting
eCommerce – fully integrated PayPal and Stripe
Constantly Developing
Website Builder
Price starting at:$119
Pros and Cons
Easy to use for both educators and students
Software comes with landing page builder and analytics
Customer support in multiple time zones
Course creation tools to design from scratch
Costly price point
Landing page builder lacks feature
Dynamic email sequences difficult to setup
No free subscription plan
Best for: Entrepreneurs and small business

4 out of 5 stars
This online learning software aims to make it easier to build online courses. The platform comes with course templates, layouts, and fill-in-the-blank modules to customize your course. Features include interactive quizes and homework assignments.
---

There are more than 4,000 courses and specializations on Coursera that you can market. Coursera Plus subscriptions are also eligible for commission. As affiliates can also earn commission from eligible purchases made by users who are already registered with Coursera, it makes it a good program for beginners. What's more, affiliates can also earn multiple times from a single user when that user buys multiple products.
Commission: Commissions on eligible purchases range from 10% – 45%. Though, only the first month's transaction will be commissioned.
Payments: For more detailed info about its payout schedule, interested affiliate marketers should contact Coursera.
Resources and support: Affiliates will receive banners, text links, and weekly newsletters.
Cookies: 30-day duration
---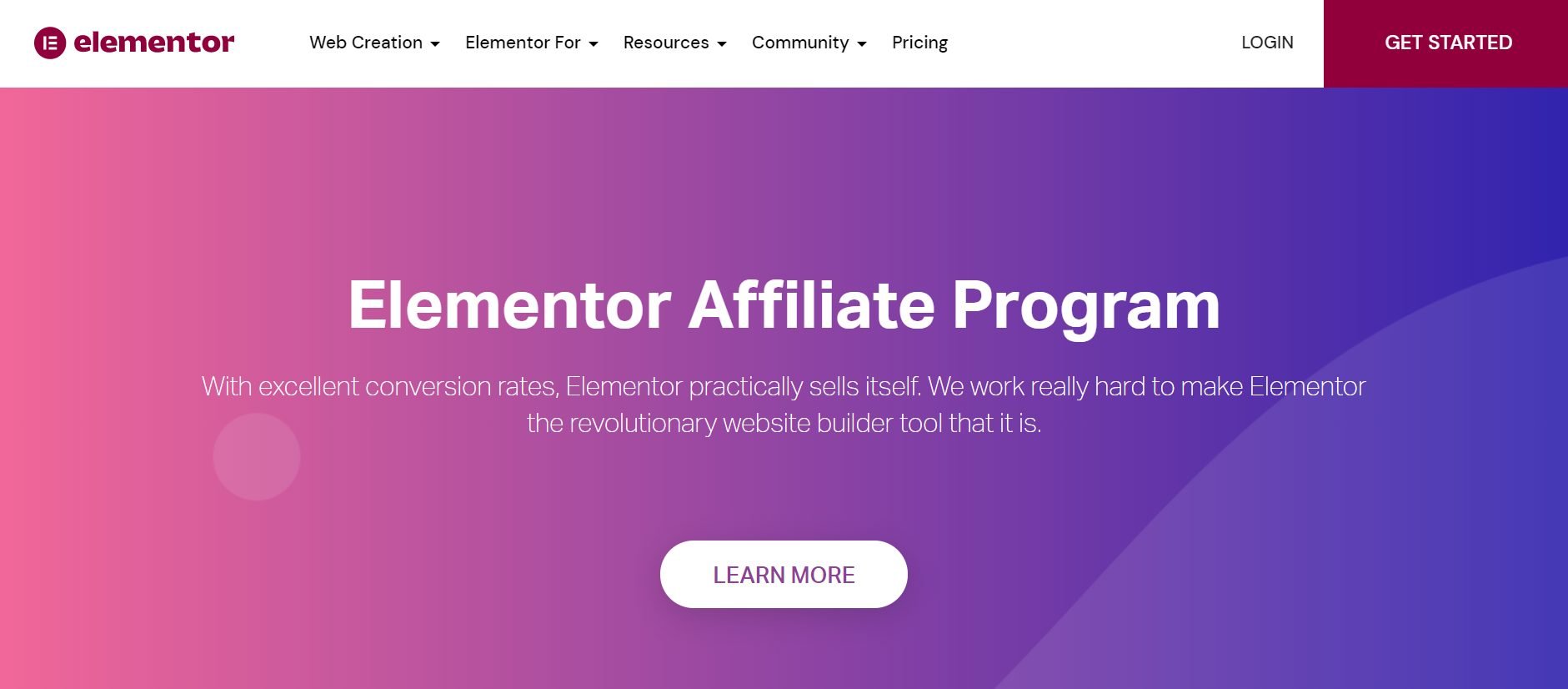 While they only turned 5 earlier this year, Elementor boasts more than 5 million active installations already, making it one of the top 15 WordPress plugins. Just like WP Engine, it's a great affiliate program for influencers and bloggers whose audiences are interested in all things WordPress. As a matter of fact, according to its website, some of the Elementor affiliates earn over $10,000 on a monthly basis!
Plus, it's one of the brands with the best branding. So, it will definitely not hurt your image to partner with them.
Commission: Affiliates receive 50% per sale.
Payments: Payouts are made in bulk of at least $200 via PayPal. Commission will only be paid within 30 days after a purchase has cleared the 30-day refund policy.
Resources and support: You'll get exclusive access to a collection of Elementor logos and banners.
Cookies: 30-days
---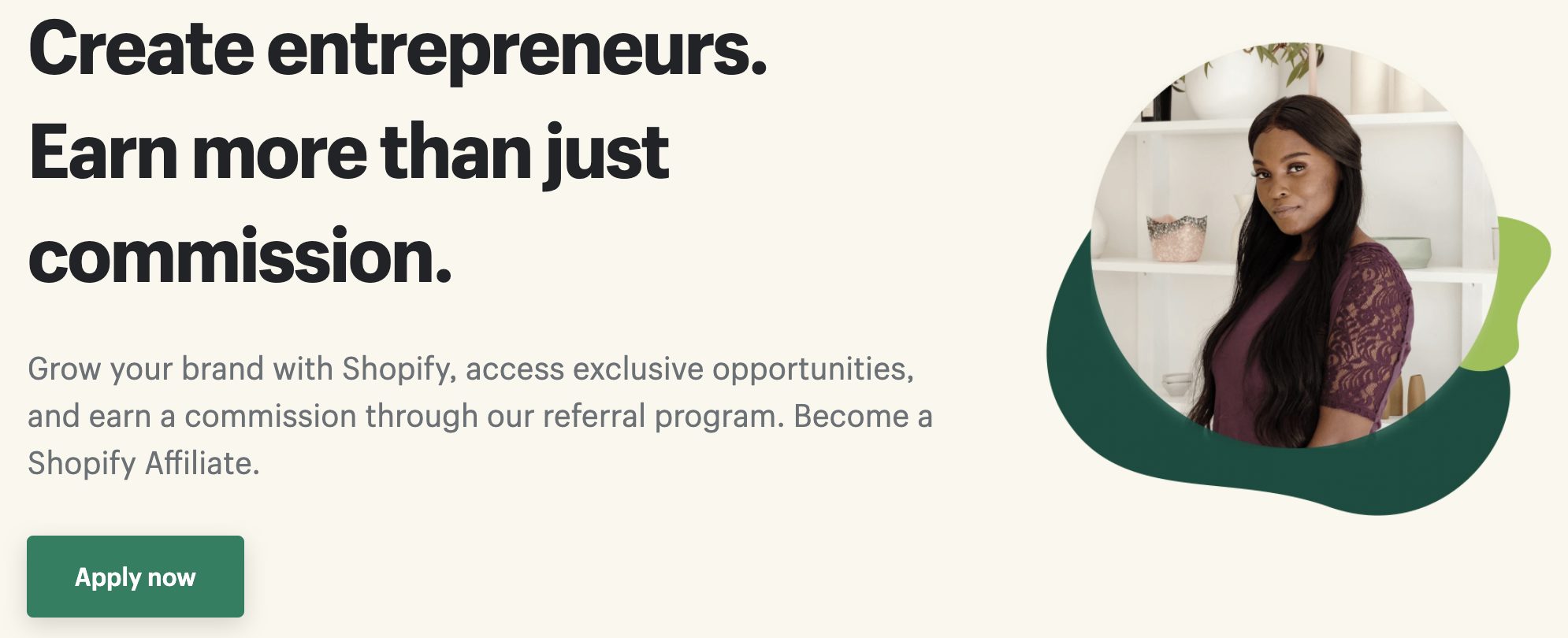 If you own and manage an active website with an established audience and have worked with Shopify or another eCommerce platform, you can also check out the Shopify Affiliate Program. To join is free, but you must have a track record of creating original content.
Commission: You'll receive a commission for merchants that you refer to one of Shopify's paid plans using your affiliate link. For more information about how much, you'll need to reach out to Shopify.
Payments: Payouts are made only via PayPal. Payouts are made twice a month for balances of at least $25.
Resources and support: It offers a Growth Center where you'll find resources that will help you to develop content and optimize your performance. There's also a library of ready-made lead magnets, product announcements. As an affiliate, you'll also have your own personal dashboard that you can use to get detailed performance insights.
Cookies: 30-day duration
Ratings
Features
4.2
Ease of Use
4.5
Support
4.4
Overall Score
4.4
Features & Pricing
CRM
Email Marketing
Multi-Channel Marketing
Inventory Management
Multi-Store Management
Price starting at:$32
Pros and Cons
Industry-leading website and store builder
Responsive designs
Easy to scale
Confusing URL structure setup
Multi-language store
Added transaction fees from Shopify
Blog pages may be more challenging to set up
Best for: Small to mid-size on standard plans and Enterprise companies on Shopify Plus.

4.4 out of 5 stars
Shopify is a leading ecommerce platform that empowers anyone to sell online, sell at a brick-and-mortar store, or anything in between. The platform offers a professional online storefront, payment solutions, and a POS application to power retail sales.
---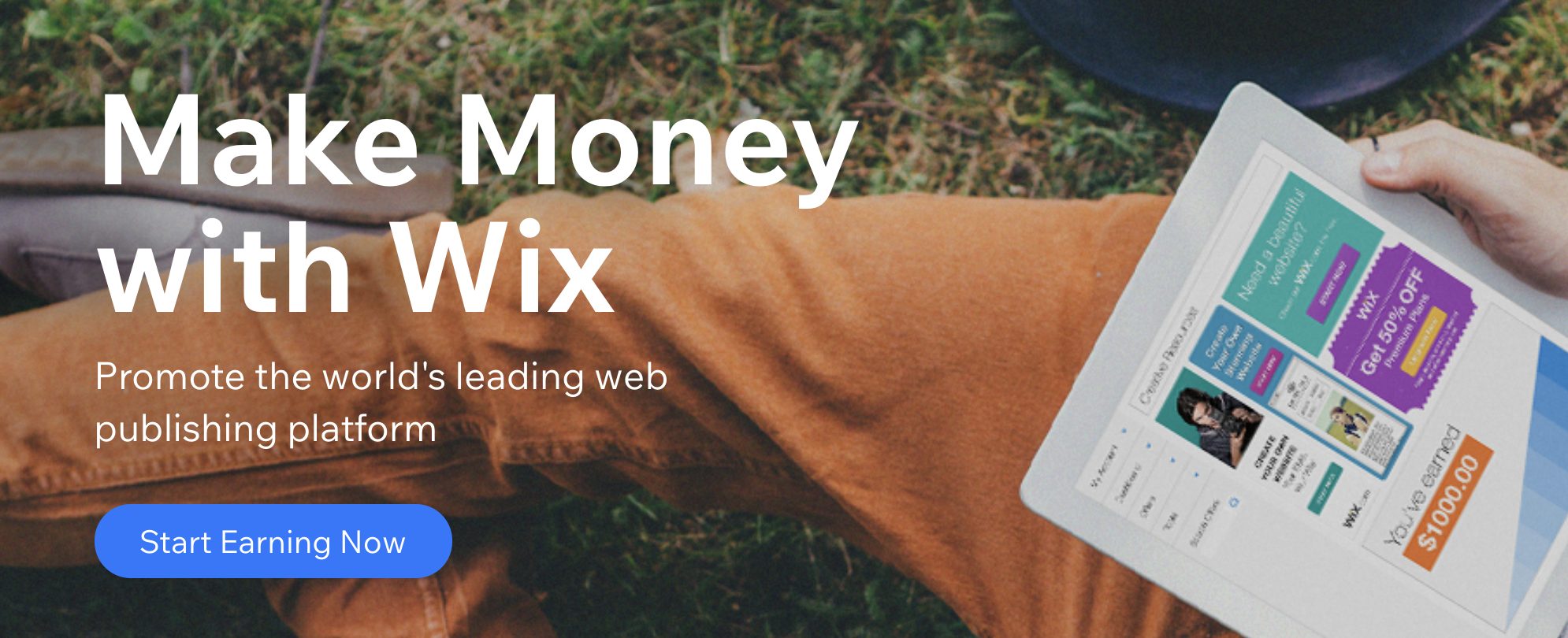 For influencers and bloggers who generate high traffic, there's Wix's affiliate program. Many small businesses turn to Wix when it's time to create their company websites as it's so easy to use. So, you'll have a big pool of potential users to sell to.
While it pays a generous commission, it does have a minimal transaction requirement of $300 per month. In other words, if you don't generate a commission of at least $300 per month, you could be booted out of the program. Another drawback is that you may not promote any special sales that Wix offers.
Commission: You can earn $100 when a referral buys a Wix Premium Plan.
Payments: Affiliate fees will get paid about 45 days after the end of each calendar month.
Resources and support: You can launch and keep track of your campaigns via a dashboard. Here, you'll also be able to access detailed statistics and customize reports. Creative resources are also provided and get refreshed regularly.
Cookies: 30-day duration
Ratings
Features
4.4
Ease of Use
4.4
Support
4.2
Overall Score
4.3
Features & Pricing
Email Marketing
Kitting
Promotions Management
Templates
Data Security
Price starting at:$23
Pros and Cons
Great value, competitive price points
Easy store setup
Sell both physical and digital products
No sales fees or commission
Wix websites may load slower
Some elements cannot be customized
May need other platforms to avoid transaction fees
You'll have to use the Square payment gateway to avoid larger transaction fees
Best for: Good for small businesses

4.3 out of 5 stars
Wix is an online website building platform that helps anyone build their own website. Wix has more than 500 customizable, easy-to-use website templates with both free and paid options. The platform also offers web hosting, SEO optimization, and more.